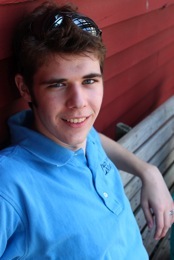 name: jess redlis (unclaimed camper)

DOB: oct31st,1993
gender:male
cohort choices:3,2,5
godly parent choices: terror, fear, mars.
weapon:gael(celtic broadsword) a sword that, in combat, erupts in black flames.
magic items: belt that turns into fullbody black armor with red cape.
ocarina that summons my nightmare,brimstone.
backpack that can store infinite items
powers: manipulate weapons,knowledge of battle strategy, skilled in multple forms of combat.
history: my parents met at a halloween party in san diego. my mom was dressed as a nun and my dad as a knight. they hit it off immediately. they dated and even got married to each other. he left when i was born. he visited a few times and left her with a different item each time. when he left for good my mother wasn't sad and told me to be strong,like a warrior. she raised me and i lived happily for a time. one time, while visiting my aunt in europe during december i saw a couple of guys trying to take a kid. i beat them up with a giant ice-covered tree branch it turned out he was the first son of her majesty the queen. sh honored me with knighthood. afterwards we returned home for a peaceful life. before a sphinx attacked us. it killed my mother. before she died she told me to take the items and run. i was an adult by then and i wanted to stay but i left. then the house exploded. i found my father left me a beltbuckle, an ocarina, a backpack, and a sword. that was when i found a letter it said: "jess, when you read this your mother may be dead. im sorry. she was a good woman. i saw her dead but i couldn't do anything. i wanted to but the fates wouldn't let me. so i leave you these items to help you on your journey. lupa's scouts will come to meet you and take you to her and then to camp jupiter. good bye. i love you son." i crumpled the note and howled with rage. when lupa's scouts came, i went with them. after spending time with lupa i left for camp jupiter. i was chased by karpoi along the way but i burned them down with gael. i still burn with rage at how my mother died. but now im learning to channel my anger at camp jupiter.
trivia
---
enjoys practicing sword skills
has great leadership skills.
hates fruits (because of a rotten pear incident.)
was almost married to an empousa but got away in time.
his epithets are "the black terror" and "first knight of her majesty the queen of england."
Community content is available under
CC-BY-SA
unless otherwise noted.